Jessica has been a regular at for Afrodita for quite a while. We'll take a look at two different times she came.
The first time she came with dark straight hair. She wished for a brighter color, but gradually and not too sudden.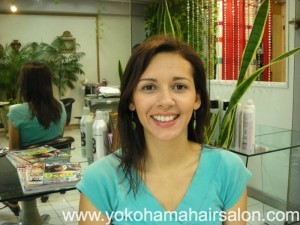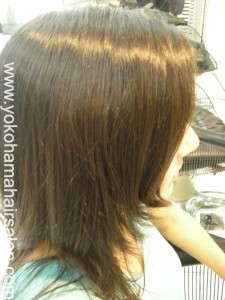 For this request, Yoshiko gave her a coloring technique called 'soft OMBRE', which would brighten her hair color up over a longer period of time. At this time, Jessica got a dark golden beige color with highlights on top.
The second time Jessica came, her hair showed off the full effect of her natural wavy hair.
Yoshiko gave Jessicas whole head highlights and added a toner afterwards. She also straightened the wavy hair by style.
Jessica's hair has became brighter in a slower and more natural feely way. The new color changed her appearance gradually for a brighter look. She'll come again to finish up this procedure.
–Update!–
When Jessica came to afrodita her hair had gotten a bit too curly for her taste and her darker roots had started to appear again. She needed to change something about this, and so she did, take a look at her fabulous journey.
Yoshiko did a touch up on her roots, bleached them all out. She then added highlights and lowlights on top, and a toner.
The result is nice looking shiny straight hair, a very big different from before. Alot of highlights were added to create this different looking hair.It looks amazing!
–Update!–
This time Jessica wanted some basic toner and straightened her hair with iron.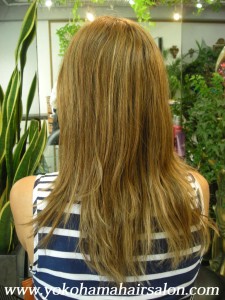 Yoshiko applied toner and made her hair a bit brighter and straigther by iron.
As always Jessica leaves Afrodita with a splendid new look. Take care ! 🙂
–Update!–
Forward time by a couple of weeks, and Jessica's roots have started to show again, plus her curly hair does what curly hair loves to do.
To e curly. ;P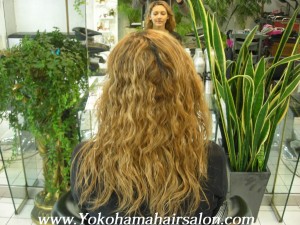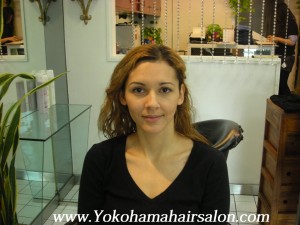 So Yoshiko cut her ends and colored her hair in a darker ombre tone this time, aswell as adding a few brighter highlights for the overall style. This should make her reapearing roots have less dominance when they return.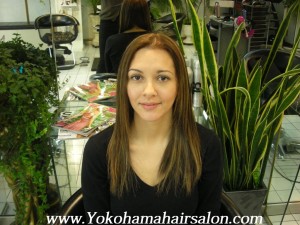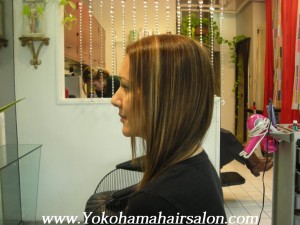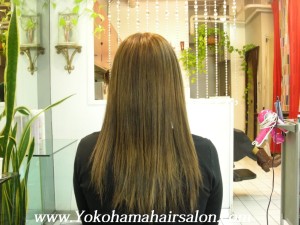 Finishing with iron straightening the hair, Jessica is left with a beautiful hairstyle. But we have a feeling it might just be her that makes every cut look good aswell ;).
https://www.yokohamahairsalon.com/wp-content/uploads/2013/07/Jessica-DSCN4605.jpg
600
800
Yoshiko
https://www.yokohamahairsalon.com/wp-content/uploads/2019/10/AFRODITADORADO-1030x553.png
Yoshiko
2014-02-08 14:34:34
2019-11-12 22:00:52
Jessica came four times for a gradual OMBRE coloring.