Iryna's style change.
Iryna had come to our salon to meet up her friend. But, she have not had a hair cut for ages.
So, she decided to try yoshiko. Actually, her friend has alredy been yoshiko's regular customer.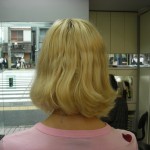 She had particular style that she wanted. It's long edgy A-line bob. Therefore, she wanted to keep the length on front, or rather, wanted to grow the length.
So, Yoshiko decided to keep the length on front as much as she can. With the shorter gradation on the back, from there, longer towards front with quite angled.
The finish result. It's nice and beautiful silhouetted, no matter which angle it's looked at.
Then, when it gets the length, she would get what she want! with this definite shape would last!