Clean hair cut for men's curly hair.
Jeremy had came to our salon with short-medium length.
but, he told us that he usually have short hair. What he didn't like  was it becomes unmanageable when it gets the length. Also, the style is easily destroied by the wind.
Therefore, he wanted short as he usually have, clean and neat.
Actually, his curl is nice, we thought. We have some japanese customers get perm it just like his, and they pay for it!
Yoshiko decided the length to be not too short, so still, he can play and make the style.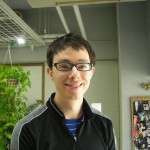 As the result, it looks still short and clean, but enough length to play with. And it doesn't look  curly at all! This is the length he wanted!