Mimi: Hair textured and perm testing.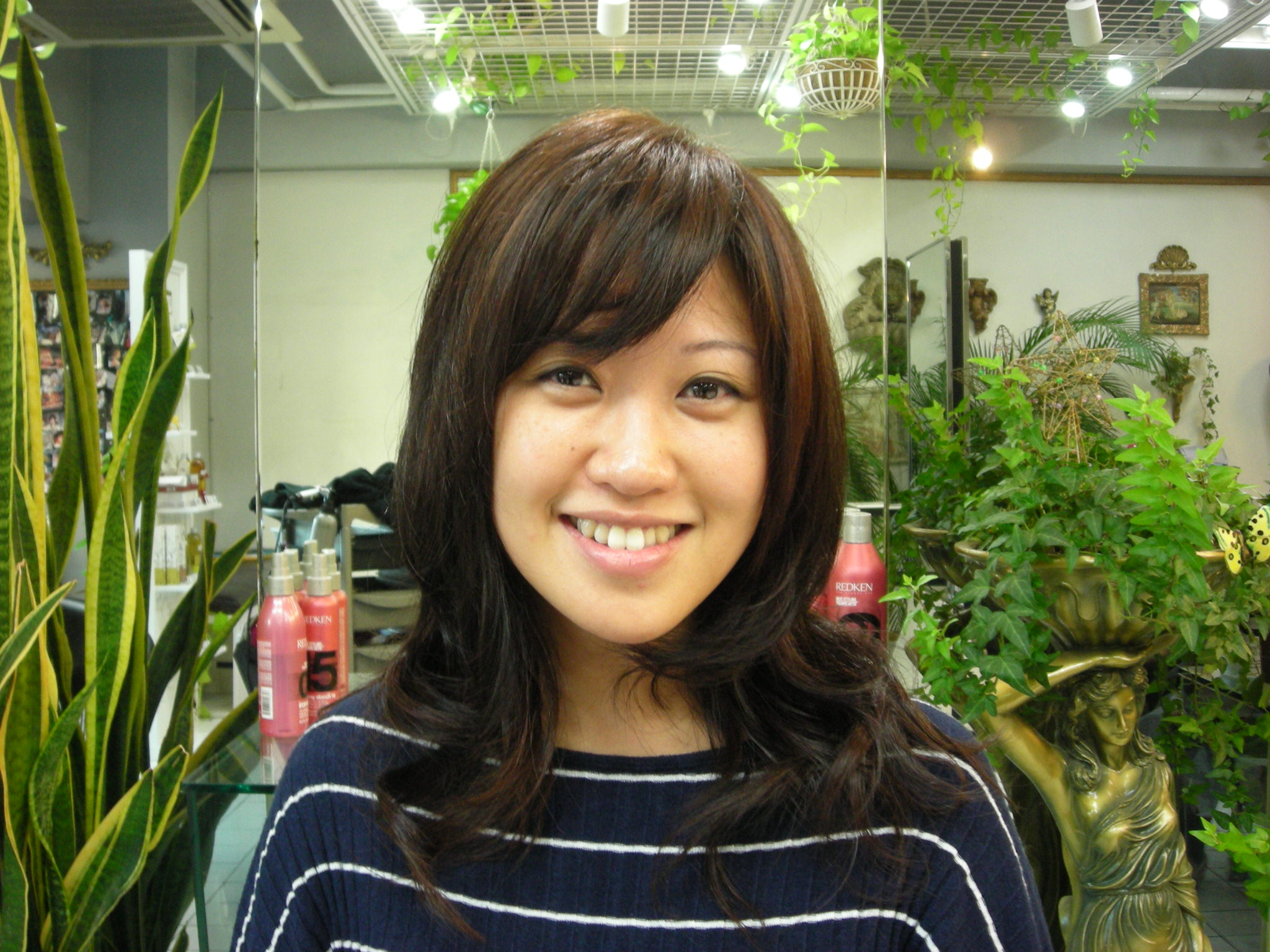 When Mimi came to  us for thefirst time, she desired to brighten up her hair and add a little color and bangs to her hairstyle. But she still wanted to keep the length she currently had.
She wanted a new base color with accenting highlights. Yoshiko gave her an ashy pink color with two different types of highlights. One a violet tone, the other a rose tone.
She kept Mimi's hair length about the same, but Yoshiko texturized it and gave it a more balanced look to the way it rests. Then Yoshiko temporarily curled her hair by ironing it, just to let her see how her hair could look after by curling it. And she liked what she saw, so she decided to come back when her hair was long enough for a digital perm.
So, five months later, Mimi came back to Afrodita to correct her root colors and perm her hair. The root part of her hair showed the original dark color, which had to be dealt with.
Yoshiko touched up the hair root, then did the digital perm to make hair to mantain the curly hairstyle. From now on Mimi doesn't have to do ironing every day to perm the hair any more. Yay! The front part was trimmed to have a fringe, the finish.
Her wonderful smile says all there needs to be said, she's happy with her cutezy look, and when she's happy, we're happy!
We're all happy! Have a nice day!      \/ 😀
–Update!–
Another day, another Mimi!


She was back to get her nice hair style maintained. Theres not much to say about it other than its still pretty and fits her well.
https://www.yokohamahairsalon.com/wp-content/uploads/2013/07/yoshiko_camera-104.jpg
1536
2048
Yoshiko
https://www.yokohamahairsalon.com/wp-content/uploads/2019/10/AFRODITADORADO-1030x553.png
Yoshiko
2013-08-10 14:31:37
2019-12-03 07:07:21
Mimi: Hair textured and perm testing.