When Melanie came to Afrodita, her hair didn't have much styling to it. Bangs were brushed to the side and her hair parted just off-center. she wanted a change.
Some locks were trimmed and styled to give her long, front, sweeping bangs. Melanie had highlights applied to brighten up her hair and her roots were treated for a consistent look.
She wanted a lighter color than she had received prior, and Yoshiko was very happy to brighten up the hair.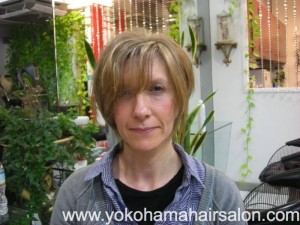 Melanie's before and after shots show a dramatic change. She now has fringe in the front and hair that is easier to style and color that opens up new options for her look.
This was Melanie's first visit here. Before she left, she made plans to do a bit more color next time and to cut the hair shorter. But first she wanted to see if she'd be happy with this new look.
— Update! —
Melanie came back to us to finish her hairstyle and try to get it even shorter. Her normal hair color has a dark ashy tone, and she wants to go lighter aswell. The change was very nice last time, so how is the result looking this time around?
.


She got her hair brightened up with a warmer color and cut a good deal shorter. Which gives her a cute stylish look fitting her amazingly well.
What do you think people? Can we beat this on her first visit?
Stick around to find out ;P
Over and out.
https://www.yokohamahairsalon.com/wp-content/uploads/2013/07/melanie-DSCN4053-e1374732233272.jpg
800
600
Yoshiko
https://www.yokohamahairsalon.com/wp-content/uploads/2019/10/AFRODITADORADO-1030x553.png
Yoshiko
2013-09-08 16:10:11
2019-12-03 07:04:18
Melanie asks for new look, gets swooping bangs and brightened color.