First time customer Karla asked for a new look for her dry, color fading hair. She wanted it to get a proper shape again, but still keep the length of her hair.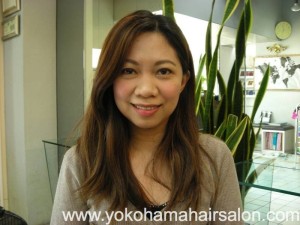 Lots of change was done by Yoshiko to  give Karla the new hair she wanted. She restored the color with dark cool brown for base color, put few pieces of highlight on top. Then she did 'Japanese thermal straightening' using Miconos solution to preserve moisture, provide naturally straight, shiny and fluid looking hair. Finally, Yoshiko did a hair cut, to give it a overall better shape while keeping the length.
What Karla ended up with after this procedure, was nice tidy, glossy hair. It has become quite sophisticated while still easy to maintain. The best from two worlds.
–Update!–
When Karla came again to Afrodita for the second time, her color had begun fading a lot from last time. So that definitely needed attention, but she wanted to go a bit darker than she normally would. But not just a boring dark.
Lets see what Yoshiko did for her. 😉

Yoshiko colored her hair darker, with a touch of several lighter ends, some darker, some lighter. Then she gave her a good layered cut with the intention of creating a wavy look.
The Result is quite phenomenal. The new dark and light colors create wonderful multidimentional ends, which emphasizes the beautiful texture of her wavy hair.
https://www.yokohamahairsalon.com/wp-content/uploads/2013/07/Karla-DSCN4347.jpg
600
800
Yoshiko
https://www.yokohamahairsalon.com/wp-content/uploads/2019/10/AFRODITADORADO-1030x553.png
Yoshiko
2013-12-06 15:07:09
2019-11-12 22:00:53
Karla receiving Japanese thermal straightening using Miconos solution