Milena goes with dark, urban color and new cut.
Milena hadn't had a cut in quite some time, and it was in need of shaping. It was curly and poofing out to the sides.
After speaking with Yoshiko, she decided that a short bob cut with a dark, urban, terra cotta color would give the look desired. We used a semi-permanent color without chemicals. It's easy to wash out, and is helpful for those who want to try out a color without damaging their hair.
The length all over was trimmed up–no longer does it fall down to her shoulders.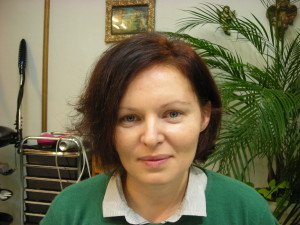 Milena's hair is now in an easier to manage state. Not much styling or blow drying is required, and the new cut gives her eyes and skin a sharper look with a youthful appearance.