Matching colors by high light for Adrienne.
Adrienne had had pretty different colors, specifically from roots to middle of the hair.
There were 3 kind of colors which were few high lighted blond part, light brown part, and her natural part.
Also, there were few damage part in ends of hair, usually the ends part gets damage, just because the hair grows from the roots, so the end would be an oldest part of hair. Especially, from  coloring, the damage on hair could go worse, so, bleaching is much worse.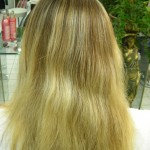 Therefore, to not touch the damege part, Yoshiko recommended her to meet the brown color into the blond color, gradually. Because, Adrienne wanted to keep certain length. Even though, she was going to cut off  damage part later, the blond part would be left.
This is the result! Actually, Yoshiko put the toner with the protection to get rid of yellow a bit,  and of course, to protect the hair.
It's naturally and beautifully blending in!!