Tammy seeks for a beautiful even coulor.
Tammy had been having  3 different coulor on her hair, 1.5cm grown  regrowth, light brown on the top area  and getting darker towards to the end of hair.
Basically, for the " natural look ", hair should be lighter towards the end. Because, the Hair glows from the roots means the end of  hair is older and the coulor of hair is faded by several reasons, such as sun shine, rain, even shampoo and oxdation etc….
So this is the reason which she'd felt uncomfortable with her hair coulor, and she was right.
Yoshiko's idea for Tammy was to get the darker end lighter to match the light brown area or even little lighter. Then colour the roots after that whole hair with a toner blending them in beutifully.
The finishe look.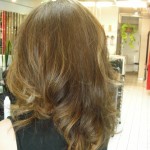 You can easily guess how we were happy with Tammy's nice smile!