Sara receives Brazilian Blowout and thermal hair straightening.
Sara came in with frizzy hair and wanted to get it under control.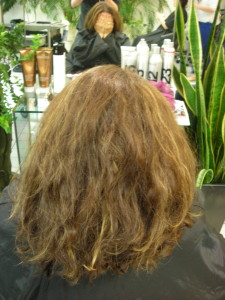 Yoshiko gave her thermal hair straightening treatment to straighten and smooth out Sara's hair. Afterward, a Brazilian Blowout (keratin treatment) was applied to help maintain healthy hair.
The difference between her hair before and after is night and day. No longer is it frizzy; the straightening helped to show off the natural glow to Sara's hair.
It now has a nice sheen to it and lays nicely along her lower neck and shoulders.