Reshaping for David.
David'd wanted to keep the length to tie them all up at the back area, eventually.
But, he found some length around front area weren't enough to, and Comparing to that, the length at the back was too long. He also felt there was no style.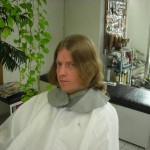 So, we decided cutting off the length on nape area, and trim most of length on the front, then connecting  them into the style.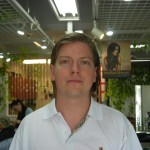 As the result, he got all connecting style which makes it easier to make direction, styled all backward! Actually, he needs bit more length to tie them up, it' s supposed to take few month, should be!
–Update!–
Time has passed, and David is back for another excellent haircut.