Kristi has bad haircut fixed, roots touched up.
Kristi came in with her friend, Amanda. Like her, Kristi's roots were showing and needed to be touched up. She always wanted her hair colored, but a cooler color than usual.
Before coming in, she had previously received a bad haircut elsewhere and wanted to fix it. Yoshiko trimmed it up a bit, but left as much length as possible.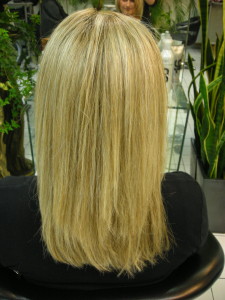 Yoshiko also wanted to control the balance of the hair, so she evened out the thickness. The result is straight locks with coloring that not only looks natural, but still has vibrancy and is sure to catch some looks.